KEY POINTS
>>>At OpenAI's developer event in San Francisco, Microsoft CEO Satya Nadella told the audience that his company's cloud is the best place for them to build.
>>>"Our job No. 1 is to build the best system, so that you can build the best models and then make that all available to developers," Nadella said.
>>>Microsoft will give access to GitHub Enterprise to developers in attendance.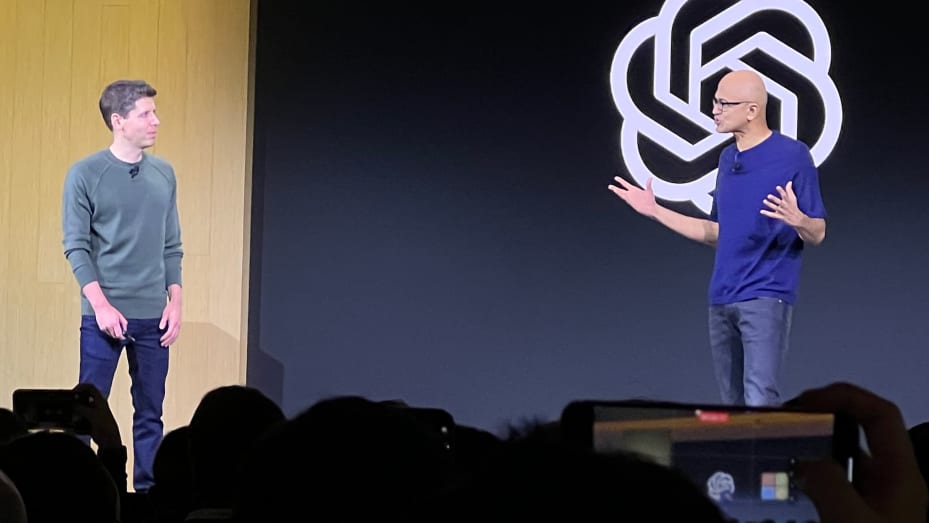 OpenAI CEO, Sam Altman & and Microsoft CEO, Satya Nadella.
Hayden Field | CNBC
Microsoft
CEO Satya Nadella made a surprise appearance at OpenAI's developer conference on Monday with a message: Come build with us.

"Our job No. 1 is to build the best system, so that you can build the best models and then make that all available to developers," Nadella told OpenAI CEO Sam Altman, on stage at DevDay in San Francisco.

Microsoft, which has reportedly invested $13 billion in OpenAI, wants to lure more developers to use its Azure cloud infrastructure for computing and storage, rather than choosing competitive offerings from Amazon
Web Services and Google
Cloud. Azure has become Microsoft's key growth engine in recent years and has helped revive the company's brand among developers.

Around 900 people attended OpenAI's first in-person event, a company spokesperson said. OpenAI is the creator of ChatGPT, the artificial intelligence-powered chatbot that went viral late last year and sparked a rush of investment into the generative AI space. The Wall Street Journal reported in September that OpenAI is in talks with investors about a share sale that would value the company at between $80 billion and $90 billion.

Microsoft boasts an exclusive license on OpenAI's GPT-4 large language model that can generate human-like prose in response to a few words of text. Microsoft is introducing a variety of products that employ GPT-4, including an AI add-on for its Office productivity app subscriptions and an assistant in Windows 11.

At the show, OpenAI announced a more powerful GPT-4 Turbo model and said it would let people make custom versions of the ChatGPT chatbot. The company also said it would reduce fees that developers pay for its software. Developers can choose to buy OpenAI's programming tools directly or through Microsoft. In both cases, Azure is the host.

Developers who are building on top of OpenAI can look to the Azure Marketplace to "get to market rapidly," Nadella said.

It's Nadella's latest strategy to attract wide swaths of developers to Azure. In 2018, Microsoft spent $7.5 billion to buy GitHub, whose software helps companies store and share their code in repositories. Microsoft will provide the enterprise version of GitHub Copilot, which helps developers complete lines of source code, to all conference attendees, Nadella said.

(Following publication of this story, a GitHub spokesperson said Nadella misspoke, and that the company will be providing access to GitHub Enterprise, not Copilot, to attendees.)

Microsoft is using its position as the backbone of OpenAI as a way to make Azure a more compelling place for developers to built AI products and services.

"Our mission is to empower every person and every organization on the planet to achieve more, and to me, ultimately, AI is only going to be useful if it truly does empower," Nadella said.

Altman is doing his part to promote Microsoft, especially as the companies work toward a potential future of artificial general intelligence (AGI).

"I think we have the best partnership in tech," Altman told Nadella onstage. "I'm excited for us to build AGI together."

Regarding the business arrangement, Altman said, "We set up the relationship between the two of us so that we're very happy when they succeed with a sale and they're very happy when we succeed with a sale."